Venue
Catholic University of Minas Gerais - Unit St. Gabriel

The SBCM will be held at the Catholic University of Minas Gerais at the Campus of Belo Horizonte, in the unit of St. Gabriel (www.pucminas.br) and in the School of Music of UFMG (www.musica.ufmg.br). According to 2004 statistics data, PUC Minas has 48,084 students, 2,328 professors and 1,293 employees, distributed in 48 undergrad courses, 107 latu sensu post graduation courses and 13 stricto sensu courses (14 master programs and 3 doctorate programs).
At the Campus of Belo Horizonte, PUC has the units in Coração Eucarístico (1958), Contagem (1991), Betim (1995), St. Gabriel (2000) and Barreiro (2002). It has other campi in several cities in the state of Minas Gerais such as: Poços de Caldas, Serro, Arcos, Minas Novas e Guanhães.
The Unit of St. Gabriel, where the SBCM will be taking place, is located in the northeast of Belo Horizonte, and occupies an area of 75 thousand square meters. Nowadays, it has capacity to attend 8,000 students in 22,000 square meters of constructed area, 82 classrooms divided in six buildings, two connected and fully equipped multimedia rooms, and auditorium and a library with more than 24,000 units, photo lab, audio lab, video lab junior enterprises, research centers and so on.
Belo Horizonte

Belo Horizonte is the capital of the state of Minas Gerais, and the third largest city in Brazil.
Located in the Southeastern region, strategically positioned within Brazil and the Americas, the city is surrounded by the Serra do Curral Mountains, which serve as a natural backdrop, as well as a historical reference.
In addition to its natural advantages, and the ease of access by air and by land, the capital of Minas Gerais stands out for its architectural treasures, its strong vocation for commerce and services, and its rich artistic and cultural offerings. Welcome to the "Model Environmental City".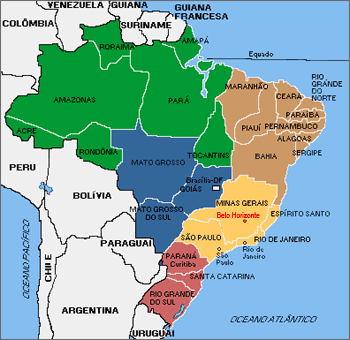 Visit www.belotur.com.br to get information about access, attractions, an so on.